abagofhalosandhorns | writtenbyrudigoblen
"In "Halos and Horns" Rudi Goblen speaks a richly contradictory language all his own: surreal and bluntly physical, full of tender yearning and sharp survivor's practicality, packed with streetwise conceptual puns, intimate revelations and a wry sense of life's twists. His theater pieces and characters have always evoked a sense of mad magic in the everyday. Now his poems pierce the veil in a different way – revealing the crazy behind the normal, and the constant longing for love."
–Jordan Levin | Arts Writer/Critic
"A Bag of Halos and Horns" (Special Packaged Deal)
GUARANTEE A COPY FOR YOURSELF
BY PRE-ORDERING YOUR BAG BELOW
What you get...
Every package comes with a handmade burlap bag that is screen-printed with original artwork.
Inside that freshly baked bag of yours, you will find a signed copy of A Bag of Halos and Horns; along with two vinyl stickers, a bookmark, and a personalized "thank you poem".
I put a lot of love and many moons into it all, so I really hope you likes.
Thankuh Yooh. Verri Muhch.
–g.
Pre-order Your package here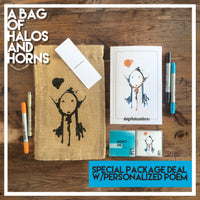 "DON'T DIE" T-SHIRT
Everyone kept asking for them, so here you go.
Finally, some damn shirts! I only printed a few of these for now. More colors and designs coming soon.
ORDER YOURS HERE
"A Bag of Halos and Horns" Tote Bags
Awesome tote bags made with lots of love and quotes from the book. 
order yours here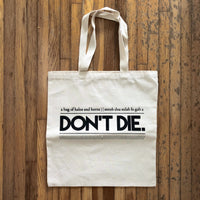 WHAT PEOPLE ARE SAYING ABOUT "A BAG OF HALOS AND HORNS"...
Halo's is a glimpse of everyday mixed with a scorching and fresh gaze of love. When Mc's write poetry we all get in the groove.

–Tarell Alvin McCraney
Playwright
Rudi's work is Bukowski meeting Basquiat over espressos and vapes.

–Teo Castellanos Actor/Playwright/Director
If you don't want to know what it feels like to live in a city with no "off" switch, put this book down now.

–P. Scott Cunningham
Executive Director/O' Miami Poetry Festival